When you're listening to your favorite podcast or music on your AirPods or AirPods Pro, if the sound suddenly cuts out, it's bound to annoy you! There could be several reasons for this erratic silence. In this article, I have discussed these problems and their possible solutions. Using these solutions should fix AirPods that keep freezing!
1. Check the range of your Bluetooth AirPods.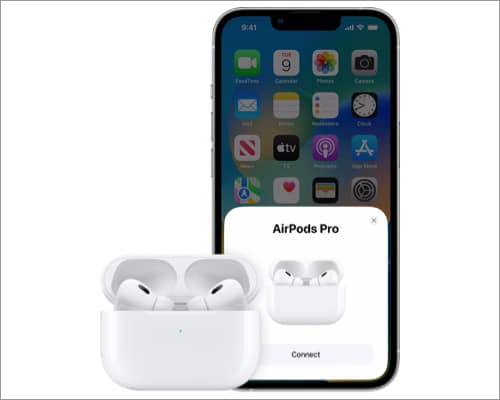 Check if both devices are in the proper range to connect. If the distance is too large, it may cause audio to interrupt and pause sometimes.
In addition to distance, physical obstacles such as walls or tables can interfere with communication. Interfering sound waves or a change in amplitude can also contribute to the problem. To solve this problem, make sure that both devices are close and there are no obstacles between them.
2. Disconnect AirPods from multiple devices.
One possible explanation for your AirPods constantly turning off or losing connection could be that they are connected to many devices at the same time, such as iPhone and Mac. Doing so may cause the music or audio to fail to play.
To resolve this issue, go back to the device you want to use or disable any associated additional devices. Follow the instructions below to disconnect your AirPods from your device.
Disconnect the AirPods from the iPhone
Launch the Settings app on your iPhone → tap on Bluetooth.

Find your AirPods and tap the (i) button next to their name.
Tap "Forget this device" → confirm your selection by selecting "Forget device".
Unplug the AirPods from your Mac
Click the Apple logo () in the upper left corner of the screen.
Go to System Preferences from the drop-down menu.
You'll find it in System Preferences in macOS Monterey or earlier.
Go to bluetooth.
Click the (i) button next to your AirPods name.

Select "Forget this device" in the popup.
Select Forget Device.
3. Disable automatic ear detection
When you take your AirPods out of your ears, the automatic ear detection feature causes the music player to pause playing music. You can turn off this setting if your AirPods freeze from time to time.
Launch the Settings app on your iPhone.
Click on your AirPods name displayed below your Apple ID.
Turn off the button next to "Automatic Ear/Head Detection".
Moreover, if you want to tweak some other settings, check out our post on how to change AirPods or AirPods Pro settings.
4. Disable Double Tap on AirPods.
AirPods are great because they let you control your music with hand gestures. The best part is that you can customize what happens when you make a certain hand movement. However, this useful feature can sometimes cause the music to stop suddenly.
This is because a double tap can be set to pause the sound. Just follow the instructions below to change what happens when you double click.
Open the Settings app on your iPhone → tap on your AirPods name.
Select "Left/Right" under "Double Tap Airpods".

Choose one of the following options and your problem will be resolved:

next song
previous track
turn off.
NB: This fix will not work for AirPods Pro. Read our article to learn how to master all the other AirPods controls and gestures.
If your AirPods keep turning off when you are listening to something, it may be because your device has run out of battery. While the AirPods have decent battery life, they won't last forever and the battery will eventually run out.
5. Low battery
When the battery is low, you'll hear a beep in your AirPods letting you know there's only 10% battery left, and another beep when they're about to turn off. But if you want to instantly check the battery percentage on your AirPods, here's how to check the battery level on your AirPods and their charging case.
6. Other major reforms
If you are facing the annoying issue of your AirPods constantly stopping sound, don't worry. Here are some other basic fixes you can try.
Reconnect your AirPods: You might be able to fix the problem by reconnecting or repairing your AirPods to your iPhone, iPad, or Mac.
Update your AirPods: There's a reasonable chance that your issue is related to a software bug that was fixed in the latest device update. In this case, all you have to do is update the AirPods, iOS or macOS firmware and the problem should be fixed.
Restart your AirPods: Here's another simple solution that only takes a few seconds. You need to put the AirPods back in their charging case for at least 15 seconds before removing them. In most cases, the problem will be resolved after following this step. However, if the problem persists, you can try other methods.
Reset your AirPods: If none of the above solutions return your AirPods to their original functionality, there is another option worth trying. You can try to restore your AirPods to their original factory settings by resetting them.
Contact Apple Support if nothing works
If all the aforementioned solutions fail to fix the AirPods random pause issue, the last option available to you is to contact Apple Support. With their extensive knowledge and experience, they can provide the advice and assistance you need to get your AirPods back to work.
However, if you have an Apple Care+ subscription, you may be eligible for a replacement, which makes the whole process easier and more convenient. You can also visit the Apple Service Programs page for information about Apple's free repair of defective products. It is recommended that you check this page to see if your AirPods are among the items listed, as this could be a manufacturing issue.
Instructions
Can dirty AirPods cause them to pause?
In my opinion, the buildup of wax, sweat, dirt, and other substances on your AirPods can harm their performance and lifespan. In addition, it can also lead to ear canal irritation or infection. However, cleaning AirPods can be difficult due to hard-to-reach areas, and incorrect cleaning methods can cause further damage.
Why do my AirPods pause when I'm on a call?
The automatic ear detection feature can also be the main reason why AirPods get stuck during a call.
That's it!
I am sure the above troubleshooting steps will help you to quickly fix the problem and resume using your AirPods without interruption. Remember to keep your AirPods clean and up to date and keep your devices well charged to avoid any future complications.
In addition, it is important to remember that the problem may not always be caused by the AirPods, but by the device they are connected to. Let me know in the comments which works for you!
Read more:
How to switch AirPods from iPhone, iPad, Apple Watch, and Mac
Apple Music keeps pausing on iPhone? How do you fix it!
How to check warranty status on iPhone, iPad, Mac, Apple Watch, and AirPods