Want to stay productive and organized while using your Mac? Well, now you can activate typing to Siri and make your daily tasks easier. This feature allows you to quickly and efficiently access all of your Mac's features without using your voice. In this blog, we will discuss how to enable Type to Siri on Mac and the benefits of doing so.
Benefits of using Type to Siri on Mac
This feature allows users to type their Siri requests instead of having to say them out loud. This is especially useful for those who work with the people around them.
With Siri typing, you can quickly access information, open apps, and complete tasks without speaking.
You can invoke Type for Siri using a keyboard shortcut (command + spacebar) or by clicking on the Siri icon in the menu bar.
Siri typing will also help you stay organized. It will help you create reminders, set calendar events, and manage your to-do lists.
Another useful use of Type to Siri is that it can help save time when solving problems. You no longer need to use your mouse or keyboard to go to settings and enter commands.
Using Type for Siri can be more accurate than dictating Siri commands. By entering your commands, you are making sure that Siri interprets your needs correctly, rather than saying the command out loud. This accuracy can be critical when sending requests or setting up reminders.
Unfortunately, this feature is not enabled by default. Hence, if you want to make the most of Type to Siri, follow the instructions given below.
How to enable typing for Siri on macOS
Now that you know the capabilities of Type to Siri, let's learn how to enable this feature on Mac in a few simple steps:
Switch to macOS
Click on the Apple () logo in the menu bar → go to System Preferences.

Tap Accessibility → scroll down and select Siri.

Turn on Type for Siri.

Next, tap on Siri Settings → turn on Ask Siri.
Select Enable when prompted.
Now, from the drop down menu next to Keyboard Shortcut, select your preferred keyboard shortcut.
That's it! You can summon Type for Siri with a keyboard shortcut. Remember that you need to press and hold two keys. Type a command into the search bar and let Siri do the rest.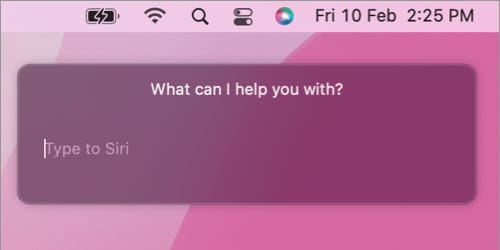 NB. To disable this feature, follow steps 1 and 2 and turn off Type to Siri.
On macOS Monterey or earlier
Click the Apple () icon in the menu bar → open System Preferences..

Go to Accessibility → select Siri.

Check the box next to "Enable typing for Siri."

Now tap on "Open Siri settings" to view Siri settings.

If this is your first time using Siri, tap Turn on Ask Siri to continue.

When prompted, tap Enable to start using this feature.

Select the dropdown menu next to "Keyboard Shortcut" to select your preferred keyboard shortcut.
You can set up a keyboard shortcut to open Siri typing, turn off voice feedback, and change Siri Voice accordingly.
NB. To disable text input for Siri, follow steps 1 through 3 and uncheck "Enable text input for Siri".
Instructions
Can I say "Hey Siri" on my Mac?
If your device supports the "Hey Siri" command, you can definitely use it to enable Siri. To check if your device supports this feature, check Apple support.
Can Siri type for me on a Mac?
Yes, just access Type to Siri in any valid way and type the exact text, and forward it to the appropriate app. You can also dictate a message, if you like, using Siri. Additionally, you can even get Siri to read your messages, emails, and texts on your Mac.
That's it, comrades!
Finally, enabling Type to Siri on Mac is a great way to use this feature in your desktop environment. It's easy to set up and use, and provides a more convenient way to interact with Siri. Let me know in the comments how you will make the most of this feature.
Read more:
How to enable input for Siri on iPhone and iPad
How to use Voice Control in iOS 16 on iPhone
The Complete Guide to Using Siri on iPhone and iPad
How to use Siri with Apple Music