Visual search is a great feature that allows iPhone users to identify objects from photos on their devices. The app is great for learning about animals, famous places, books, and even plants, so you can learn more about anything that catches your eye.
Unfortunately, this feature may not always work properly. So, read on to find out how to fix Visual Look Up not working on iPhone.
1. Check if your iPhone supports visual search.
It is important to note that your iPhone must be running iOS 15 or later for Visual Look Up to work. To update the operating system:
Go to "Settings" → "General".
Select Software Update.
You should see the current version of iOS installed on your iPhone and see if an update is available. If available, click Download and Install.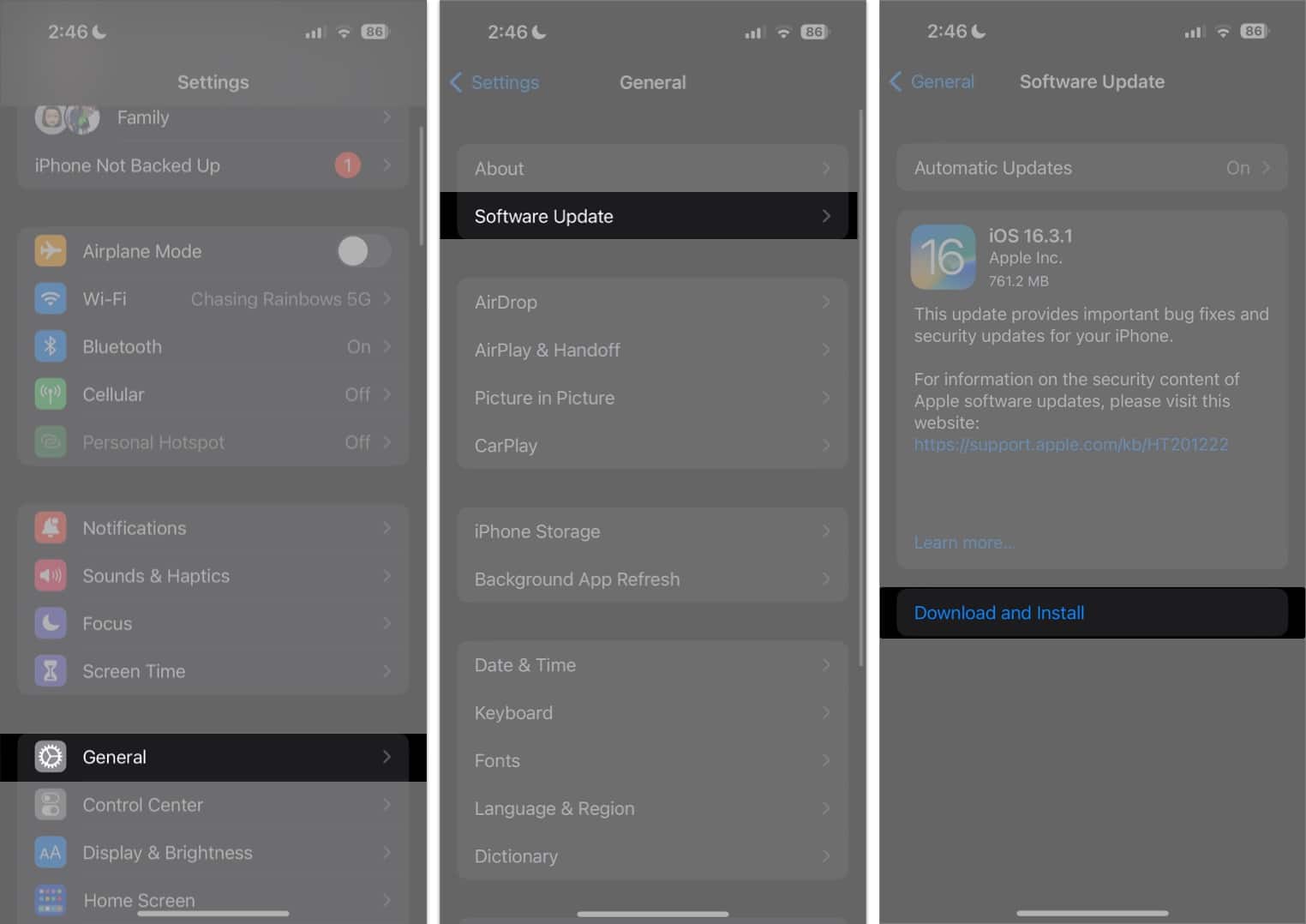 Then check if your iPhone or iPad model supports this feature. Visual search is only available on the following models:
iPhone 14 series
iPhone 13 series
iPhone 12 series
iphone 11 series
iPhone XR, iPhone XS, and iPhone XS Max
iPhone SE (2nd generation or later)
If you agree to the following requirements to perform a visual search on your device, below are other possible reasons and solutions to help you use the visual search feature on your iPhone or iPad.
2. Learn how visual search works
Visual Look Up doesn't work like Live Text on the iPhone, which detects text directly from the iPhone's camera. Instead, Visual Look Up works in built-in iOS apps like Photos, Safari, and Messages.
It is very important to know its button or icon. In the Photos app, you might see a visual search icon with other icons at the bottom of the screen: an info button with stars or sparkles. If the image on your device does not have a detectable image, you will only see the normal info button.
When this icon is clicked, additional information appears below the heading, displayed with a different icon that matches the type of image that Visual Look Up was able to detect, such as a book icon for a book, or a location marker for a known landmark. or destination.
3. Change your region
One of the most common reasons why users can't use visual search is because of their location. Good thing there is a simple solution to this. Change your device location to one of the supported regions and languages.
Open Settings → General.
Select the language and region.

Click "Region" and change the current region to any that supports visual search.
The following are the regions and languages ​​that support visual search:
Australia (English)
Canada (English)
India (English)
Singapore (English)
United Kingdom (English)
USA (English, Spanish)
France (French)
germany german)
italy italian)
Japan (Japanese)
Mexico (Spanish)
Spain (Spanish)
Visual Look Up is a new skill Apple's trusted assistant has developed to make your life easier, so it will require Siri to be enabled on your device.
4. Turn on Ask Siri on the iPhone
Go to settings.
Scroll down and tap Siri & Search.
Toggle Show in Search.
5. Choose another photo
It can be difficult for the on-device machine learning and object recognition tool to recognize images in heavily overloaded images, even if they contain two recognizable images.
To have your iPhone detect an object in a photo, make it center in the photo, clean up the clutter around it, or better yet, take the photo with a transparent background.
It is also possible that the image you are using is of poor quality. Lighting, glow, and clarity can also affect Visual Look Up's ability to detect objects in an image.
6. Internet connection
A good internet or data connection will make Siri work. In this case, your iPhone or iPad will most likely be able to detect the object in the image, but it will display a "content not found" error in the results because it can't fetch data from the Internet. So, make sure that your iPhone has a stable internet connection.
7. Turn on Airplane Mode
If you're already connected to the Internet but still having problems with visual search, open your iPhone's Control Center, turn on Airplane mode for about 30 seconds, and then turn it off. This will reset and restore your iPhone connection.
8. Restart your device
Like any feature, Visual Look Up can also suffer from crashes and errors. If turning on Airplane mode doesn't help, you may need to quickly restart. Restarting your iPhone can fix crashes and errors, allowing it to work again.
9. Wait for the update
As with other data that relies on machine learning, only what can be recovered can be determined. While it will certainly improve over time, it may not pinpoint everything accurately right away. In addition, you are limited to scanning certain categories such as pets, animals, artwork, books, insects, and places.
We can expect Apple to add to this list soon, so it never hurts to keep an eye on updates. In the meantime, you can use other object recognition apps on your iPhone to identify items.
an end…
Visual search is a great feature that can help you identify specific objects or get information about them. But like other software, it is not perfect and can crash due to various reasons.
We hope the above fixes helped you get Visual Look Up to work on your iPhone so you can use it to its full potential. Where do you use Visual Look Up most often? Let us know about it in the comments!
Read more:
How to use live text in videos in iOS 16
Extract text from an image on iPhone and Android
How to use Google Lens on iPhone and iPad